OUR SERVICES
International Woodfired Specialities
CRUSTA WOODFIRED CATERING IS SUPPLYING A SELECTIVE VARIETY OF TASTY, AUTHENTIC INTERNATIONAL WOODFIRED SPECIALITIES.
We aspire to fuse nutrition with traditional & contemporary trends, using fresh local produce, organic & pesticide free wherever possible. Crusta Woodfired Mobile Catering Services offer gourmet Woodfired Pizzas and other specialities out of the wood fired oven…
We can provide pizza buffets for backyard birthday parties, wait on 200 guests at a wedding/office party/corporate function or operate a food stall atByron Bay Pizza Crusta a school venue or at a music festival serving up to 50 wood-fired pizzas per hour…
If you are having a party, relax and enjoy it… Let Crusta Woodfired cater your party/ venue! Our mobile catering team can set up prior to your guests' arrival and leave quietly after we finish serving, leaving no sign that we were ever there except for satisfied bellies and taste buds!
Our popular hot and tasty, authentic woodfired pizzas are cooked fresh in our mobile pizza oven. Pizza slices make fabulous finger food for parties but we can also serve whole pizzas.
We can offer a wide variety of a international selection of pizzas and breads, depends on your taste and likes.
Our Catering Services (maybe combined):
Pizza Buffet
Labeled Platters Of Pre-Ordered Freshly Wood-Fired And Sliced Pizzas Are Topped Up As Required.
Waiter Service
Slices Of Freshly Woodfired Pizzas Are Offered To Your Guests As Finger Food, Or Whole Pizzas Are Served To Seated Guests (Up To 50 Pizzas Per Hour And Served By Our Well Trained Wait Staff– Max. 30 Pizzas/Waiter/Hour).
Counter Service
Pre-Ordered Pizzas Are Cooked When Requested
Recycled Paper Plates & Serviettes And Wooden Forks Are Provided.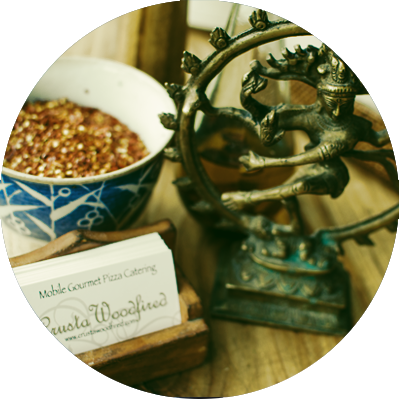 Our mobile kitchen set up demands a fairly levelled 3m by 6m space.
If you have a date in mind, don't miss out, please contact us to confirm availability and book.
Events
CRUSTA WOODFIRED CAN OPERATE A FOOD STALL AT YOUR FETE, MARKET, FESTIVAL OR EVENT
School Fetes, Public Venues, Markets, Music Festivals, Food and Wine Festivals and other events… Our hot and tasty, authentic wood-fired pizzas are cooked fresh in our mobile pizza oven and are always popular. We are council-registered and all staff are highly conscious on regard to hygiene and safe food practices. We hold our own public liability insurance. Our whole set up requires a 3m by 6m fairly levelled space.
We love being a part of this special day
Weddings
MOBILE CATERING FOR PARTIES AND OTHER PRIVATE FUNCTIONS
Mobile Catering all over northern NSW & southern Queensland
PARTIES & PRIVATE FUNCTIONS
We'll set up before your guests arrive and leave quietly once your guests have finished eating. wedding Byron BayWe are specialised in wedding caterings but we can cater for small backyard parties, house-warmings, large private or corporate functions, 18th birthdays, 21st/30/40/50ths… We can serve food to 30 dinner guests from your driveway, 80 birthday party guests in your house or backyard,100 adults and children at a family picnic or casual lunch, or 200 wedding guests.
International Woodfired Specialities
We love being a part of this special day
WEDDING CATERING
Our catering services are tailored specifically for beautiful weddings. Over the past few years, nearly every weekend has been spent preparing and creating beautiful food for special weddings in diverse locations and for different styles and tastes
Corporate Events & Functions
Mobile Catering for Corporate Events & Functions
CORPORATE EVENTS
Looking for something a little more upmarket than ordering pizzas from the local pizza shop for your office party or office christmas party? How about some freshly wood-fired gourmet pizzas? Crusta Woodfired can cater an outdoor event or an indoor office party. We can set up outside your building and our waiters can circulate hot pizza slices inside amongst your staff and guests, but we have many other options available so check our Parties & Weddings page for details. Crusta Woodfired are experienced and reliable caterers. We can cater your office function, corporate event or christmas party in a professional manner, leaving you free of worry and able to relax and enjoy the party