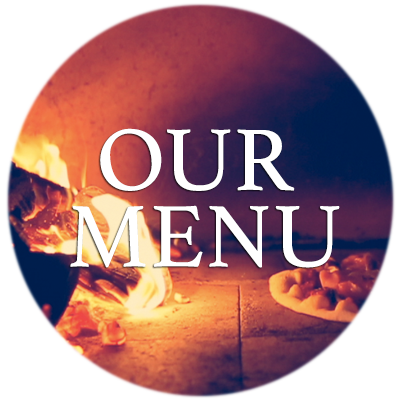 ALL OUR PIZZAS ARE MADE IN A TRADITIONAL WOOD FIRED CLAY OVEN. WE SOURCE OUR PRODUCTS AT THE FARMERS MARKET & LOCAL SUPPLIERS. THE PIZZAS ARE MADE WITH A TRADITIONAL NAPOLI SAUCE AND MOZZARELLA. WE CAN EASILY CATER FOR GLUTEN FREE AND VEGAN PREFERENCES.

A fine selection of different Antipasti, Cheese platters, Charcuterie boards (Italian Prosciutto, Coppa, Sopresa…), marinated Kalamata Olives, homemade Chutneys, Pestos, Relishes, Chillie Sambals, Woodfired Sourdough bread, infused Oils, Grapes, wild Figs, Pancetta wrapped Dates…
the Grazing Table reflects the season, so it might change slightly
(we arrange a colorful pick-nick like a wooden table with lots of flowers, different flavors with a very festive presentation)
Oysters
Raised in Brunswick Heads or Sydney Rock with Lemon, Gin and Tonic or Lychee Lime Granita
Focaccia
 marinated Olives, Fig Balsamic infused Olive Oil
Starters
Bruschetta with Romesco, Parmesan fresh Basil and Garlic Bread with Mediterranean Herbs
Rosemary roasted Pumpkin, Baked Feta Cheese, Caramelised Onions & Basil-Walnut-Parmesan-Pesto
*
Charcoaled Vegetables, Kalamata Olives, Baked Fata and Garlic w. fresh Herbs
*
Sautéed Portobello Mushrooms, Gorgonzola Cheese with Caramelised Onions in a creamy Sauce with fresh Parsley and toasted Walnuts
(Could be served with Ham or Pancetta)
*
Margherita, Mozzarella with Garlic and fresh Basil on Napoli Tomato Sauce
*
Gorgonzola Cheese, Kalamata Olives, Caramelised Onions, Rosemary, Mozzarella and fresh Parsley
*
Spanish Pepperoni (Salami), Kalamata Olives, Rosemary, Garlic and Mozzarella on a Napoli Tomato Sauce
*
Prosciutto Ham, Portobello Mushrooms, Olives, Mozzarella on Tomato Sauce with fresh Rocket
*
Green Prawns, roasted Capsicums, Chilli infused Olive Oil and fresh Parsley
*
Pineapple and Ham Pizza for the young Gourmets
*
(There is a small Surcharge of$3 per pizza for Prawns, Prosciutto and Pancetta)
Open to your suggestions…
Jack's Rocket Salad with toasted walnuts, shaved Parmesan, and Pear with French Honey Mustard Vinaigrette
*
Jack's Rocket, Watermelon, Mint, Burnt Feta, Toasted Almonds, Vinaigrette
*
Colorful Garden Salad with shaved Zucchini and Diakon, baked Feta Cheese and toasted Pepitas with a Tahini Dressing and lots of fresh Herbs
*
Couscous and Chickpea Salad, Mint, Coriander, Pomegranate, toasted Almonds on a Lemon Virgin Olive Oil Dressing

Dessert Pizza:
Caramelised Pear or Apples, lightly roasted Almonds
with a Cinnamon and Vanilla Cream
(Similar to a Pear-/Apple Strudel)
or
A fine selection cakes, baked by Luke, our french Patisserie Chef.
His Cakes, Tartes and Tortes are well known in the Byron Shire and beyond.
They vary from Pecan-Honey-, Apricot-Pistachio- or Tripple Chocolate Tartes, Berry Cheesecake, Chocolate Praline Torte…they all can be served with a slightly sweetened Ginger Cream or classic Cream
Byron Bay Coffee Company and a fine Selection of different Teas
Organic Milk, Bonsoy Soy Milk, Bush Honey, Raw Suger…
Please don't hesitate to call me on my number, 0434 516 659 or send me an e-mail if there are any further questions.